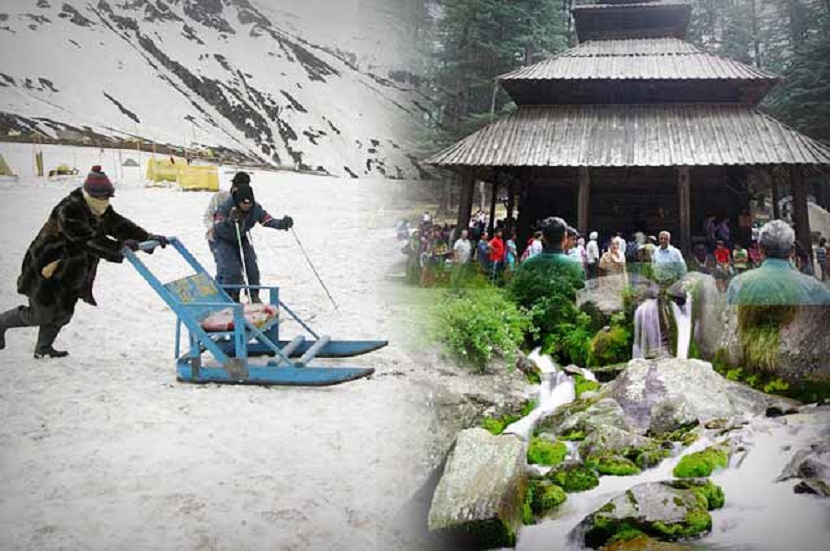 Located in the middle of the hilly mountains of Himachal Pradesh, Manali is one of the best places where you can enjoy your holidays and have a wonderful experience. It is a place where nature and beauty combine. If you are planning for holidays in Manali and visit the nearby sightseeing, it is better to book Manali Sightseeing Packages. These packages will help you to visit different destinations available in the areas by car or even taxi. Manali's scenic beauty, and remarkable landscapes, will never allow your trip to be just a common holiday. The travelers here can enjoy the soothing sound of the water flowing in River Beas and the fresh scent that is spread all over.
No matter, whether you are going for a short trip or even a long one, a comfortable stay or even an adventure holiday, whatever your travel favorite, the travel companies have the right Manali vacation tours for you to select from. Looking to pamper? Don't forget to check out the best affordable Manali Sightseeing Packages providing the finest of the hotels and inclusions planned to pamper you on the Manali vacation.
Enjoy the Natural Beauty
No doubt, tourists come to Manali to enjoy the natural beauty. If you are also a nature lover, you must take the Manali tour package by car to discover the natural wonders of Manali. Here, you can visit Solang valley, Kullu, Rohtang pass and Gulaba. So, you can find a taxi service that can assist you in discovering the beauty of nature.
Temple's tour
Manali is quite admired for the holy temple and river streams. There are lots of renowned and esteemed temples in Manali and Kullu valley that we comprise in our Manali sightseeing taxi package. You can book a tour of different temples such as Hadimba Devi temple, Manikaran, Manu temple, and Vashisht Temple. These temples are also covered by nature beauty.
Monuments
There are different famous historic monuments located in Manali that you will love. Along with natural beauty, Manali has famous places of historic significance. You can visit different places including the Tibetan monastery, van vihar, Naggar Fort, Waterfalls, etc.
Adventurous tour in Manali
Different Manali adventure tour packages, offered by the travel agent, give you real fun and ever-lasting memories. The team takes care of every prospect of a trip, from meals and accommodation to transfers. If you wish to try thrilling activities like paragliding, skiing, river rafting, trekking, and Jeep safari, then it is better to choose the best Manali adventure sports packages.
With the team, you can enjoy river rafting on the fast-flowing Pin, Beas, and Spiti Rivers, and kayaking on the tank of Pandoh Dam. Execute the dream of flying in the sky with our packages, based around paragliding. We will take you to two renowned ends for the activity, Marhi, and Solang Nallah. Those, who wish to take a closer look at the land of the mountains and the wildlife flourishing here, can choose to trek. By getting availing of the services, you can take on the Bhrigu Lake trek, Chandra Taal trek, Beas Kund trek, and Chanderkhani trek.
Angling and fishing tours
The Gangetic plains and the Himalayas foothills of the best locations to head to, to take pleasure in a thrilling angling/ fishing tour. Golden Mahaseer fishing and Trout fishing are two of the trendiest angling varieties for guests here.
Manali Tourism takes you to a land of entangling mountain paths, lofty snow-capped mountains, rippling streams, and green lively valleys. Spacious from the other hill stations of the nation which were once upon a time the inner point of all British activity, this hill station boasts of its natural and scenic beauty. The Manali Tour Package gives you amazing accommodation options from real luxurious deluxe suites to cheap and reasonable rooms.
Manali has turned into one of the most loved tourists ends in the last few years. You are advised to purchase Manali packages to save time and money. The center of Manali is The Mall (main bazaar) which boasts of trekking shops, areas, and eateries. One can have the time of the life at The Mall by digging into some appetizing food and trying your hand at mountain climbing and trekking. If you desire to enjoy the bliss of ice skating and skiing, then you are suggested to take a Manali tour during winter.
However, the weather might a bit cold at the time; you will surely love the snowfall and the winter games. Meanwhile, for idyllic weather conditions, the finest time to visit Manali is between May and October. However, you should try to avoid the monsoon months!
The old Manali or even Manaligarh is yet another hot tourist spot. It is a delightful and quaint village sated with fields and orchards. It will move you into an ethereal world and suggest lots of longing. One must also check out the Tibetan monasteries which include the renowned Gadhan Thekchokling Gompa. Yet other notable sightseeing locales of Manali are Rohtang Pass, The Great Himalayan National Park, Beas Kund, Snow Point, Vashist Baths, Jagannath Devi Temple, and Pandoh Dam. Manali also boasts of some wonderful trekking areas such as the Manali-Lahaul area. More outdoor activities that you can take pleasure in Manali are camping, rock climbing, mountaineering, fishing, and jeep safari.
At the time of the Manali tour, you should even indulge in a bit of local shopping buying handicrafts, carpets, or souvenirs in The Mall. Manali also has a thread of restaurants, cafés, eateries, and food stalls. One can also discover the outstanding food in the Manali hotels. For the right accommodation, you can either look into some of the best Manali hotels or discover lodging in guest inns, houses, and lodges. Manali is having the special facilities that modern life has to give. In the middle of the mountains and the snow, travelers can enjoy simply unforgettable times.
If you are looking for more information on Book Manali Sightseeing Packages, you can visit glacierresorts.in for more information.